Your mother-in-law has to move in with you; she is incapable of living independently and needs to be as close as is possible to her loved ones now that she is getting older.
You aren't too happy about moving her into a nursing home, and she isn't too pleased about the idea either. Nothing wrong with that, and it's quite understandable.
But there is a problem.
You don't have an extra room to accommodate her in your house and you'll like her to have her own self-contained place, not just a room in the home. At the same time, you want her to be in close proximity to the family.
You might want to consider building her some tiny but private lodgings, a place with its living room, kitchen, bathroom, bedroom, and storage area. Possibly including a garage, in case she has her own car and plans to keep it.
And because you have some extra space on your plot of land, you want it within the compound but separated from the main house. It can even be built as a separate building in the rear lawn. This way you'll be sharing the comfort of your home with a loved one without compromising on your privacy or hers.
This kind of private residence within your grounds is called the "mother-in-law quarters". It is also referred to as:
In-law suite
Granny flat (or apartment)
Granny suite
Accessory apartment
Though this article is about mother-in-law homes, such accommodation can also serve many other purposes such as:
Guest quarters
Private apartment for your kid (18+)
Home office
Caretaker's quarters
You don't need more than something between 700sq.ft (65m2) to 850sq.ft. (79m2) of land, space to build your mother-in-law's private apartment, and in some cases, you can do with less space than that.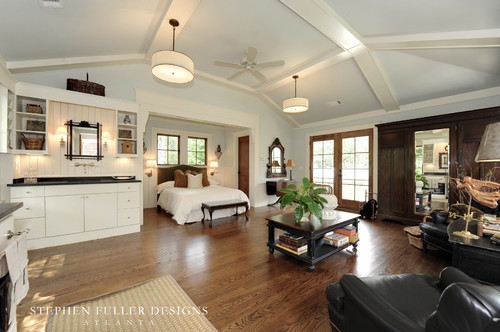 A Good Way to Maintain Privacy
The reasons why it's best to have separate living quarters is because it's a good way to maintain privacy for your primary household as well as for your new live-in guest. Respecting others space and privacy is important to all.
The lodgings may or may not be attached to the main house, but it'll be a great idea if it has its own main entrance door. This way, whenever you go 'visit' her in her private home, it'll be like a real visit . . . except it's just across the garden (or lawn).
Multi-Generational Households on the Rise
Today's demand for such living quarters like in-laws or elderly parents 'home-within-a-home' is on the rise because the number of multi-generational households is increasing, and constructing an in-law suite is the way to accommodate such changes.
"Data compiled by AARP, the advocacy group for people 50 and over, shows an increase in multi-generational households from 5 million, or 4.8 percent of all U.S. households, in 2000 to 6.2 million, or 5.3 percent of all households, in 2008"
So, as more property holders are converting their residences into multi-generational homes for themselves, their children, and their ageing parents, they should ensure the new living space permits privacy and independence for all group of the home's occupants.
Further Reading:
Build Your Dream Home With Shipping Containers