If you finally decide to buy your dream home's house plans online, something which will turn out a wise decision on your part, you'll receive a complete construction package that'll enable you to build your new home from start to finish.
This package comes with a minimum of 5 complete sets of drawings, and unless you require some form of customisation or modification to your choice, your blueprints will be ready for immediate delivery upon receiving your order.
A complete set of plans will provide you with the necessary information you need to build your homes to completion.
For some, depending on which region you reside in, there may be a need for some minor adjustments to the design, in order to conform to your state, local, county and country's building codes.
The package prices vary and most times depends on the architect that creates the design, however, a complete package starts from around $1000.00.
Not bad because this amount is a small fraction of what architects will charge for a custom set of residential plans which can run into several thousands of dollars, even on the low end!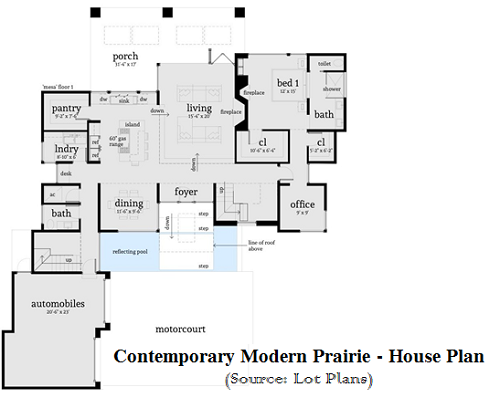 Home Design Blueprints Package – How to Read and Understand It
What Comes in a Set of Blueprints?
An average package of blueprints includes (but is not limited to) construction drawings of the following:
Foundation Plan – The plans will show a basement, crawlspace or slab, depending on what's been designed for that home design. The foundation plan's details sheet will show the foundation options available for a specific home floor plan, and the plan details the layout and construction of the design's foundation.
Advantages of Buying Blueprints On-line
Detailed Floor Plans & Elevations – Plans and elevations show the placement and positions of interior and exterior walls, including detailed dimensions for rooms, open spaces, stairs, doors, built-in cabinets, windows, etc., for each floor level of the design. Home plan drawings will show plan layout, elevation views and sections.
Exterior Elevations – The elevations show the front, back and sides of the home, the roof design, including scaled dimensions and exterior material details.
Electrical Schematic Plans – The electrical plan indicates the wiring design, location of electrical outlets, light fixtures, switches, etc. It will be shown on a separate sheet of drawing included in the house blueprint package.
How to Customise a House Plan to Meet Your Needs
Regional Variations
Due to regional variations, it isn't possible to include much details about plumbing, heating, and electrical works. All ducting works, venting and other details will vary depending on the type of HVAC system, and the form of energy used. Such details and specifications are easily obtained from local home builders, contractors or suppliers.
Choosing Plans That Fit Your Neighbourhood
A separate framing plan and materials list are not included in the package of home designs and plans, however these items, if available from the designer, can be purchased for a nominal fee.
What you'll receive for the fee are the details sheet for each design, listing the building costs and materials available for use.