Most interior designers love working with alcoves and find that they have great design potentials . . . they can be designed and decorated in such ways that space becomes a focus of attention in any interior space, rather than an uninteresting space.
But space must be planned carefully from the onset.
Alcoves are recesses you'll find within interiors spaces (living, dining, bedrooms, etc.). They range from tiny nooks to wider bays. Many homeowners don't know what to do with these recesses and end up pushing a nondescript item into it, or just leaving it as is, maybe with framed artwork on one of its three walls.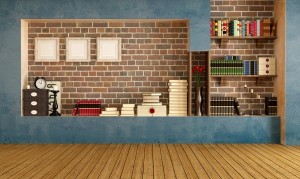 But there are quite a number of ways to turn a niche into a spectacular space that's not only aesthetically pleasing, but functional as well, depending on its width and depth, whether it has windows or not, or its ceiling height.
10 Ways to Turn Your Niche into an Impressive Space
1) If your alcove is wide and deep enough to fit in a wide sofa, place a love seat with small artsy side tables on each end of it. Place a runner rug in front of the two-seater and place a large painting on the wall above the seat. You can place a cute table lamp on one of the tables and some artsy decorative pieces on the other.
With this, you have created a seating area that's away from the crowd or a little cosy retreat to read a book.
2) With an alcove that's a smaller nook, the walls can be mirrored to give it an illusion of some large space. It can be mirrored with antique themed mirrors or bronze mirror. Put a beautiful tall stand or plinth in its centre, and place a large vase of freshly cut flowers, a treasured statue, and an abstract piece of artwork or the like to enhance the small corner. If you can, install a unique pendant light fixture to 'drop' over the display.
With this kind of treatment, the alcove will enhance your living room, 'demanding' a second . . . and third glance from guests.
3) If for example, an alcove is sited under the staircase, it can be converted to a mini-office for work-at-home inhabitants. The slant of the staircase makes this kind of niche especially attractive; that is if it is planned well, with an appeal in mind.
For an alcove office, you'll need a suspended surface that acts as a table, some shelves, a drawer unit under the suspended table top, and a nice attractive chair. The scale is very important. The walls can be finished in a contrasting colour from the other walls in the room, preferably deeper hue colour paint that compliments the other walls, or a textured wall finish (or wallpaper) that'll enhance other features set around it.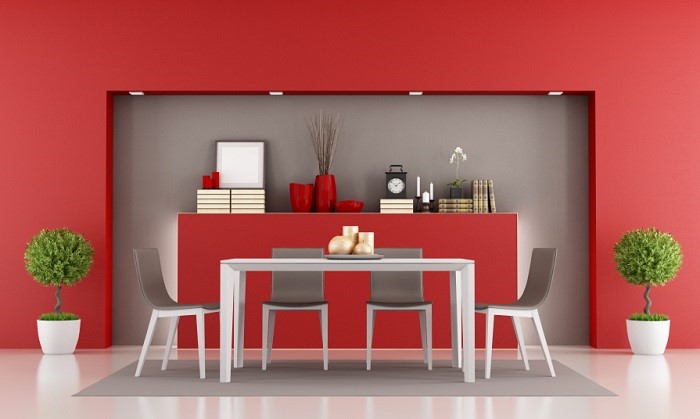 4) If you love the sea life and underwater creatures, an exotic fish tank can be installed to fit within the space. It can be built raised on a platform not higher than 30cm (12inches) and rise as high as the average door height of 210cm (84inches), at the same level with the window and door lintels. The platform can serve as storage for fish food, and aquarium tools and accessories.
The choice of fish and the water-scape will determine how attractive the underwater life will be and how much of a conversation item it can remain.
5) The use of indoor water features such as waterfalls and ponds is gaining popularity and because of the tranquil feel, we get from flowing water, having a floor standalone water feature with cascading waterfalls is another great design idea for an alcove. From the rustic to the modern and depending on the interior design theme, indoor water features will greatly enhance an interior niche.
6) An alcove can be transformed into a mini gallery that's filled with photographs, plaques, paintings, or small framed artwork. These can be arranged on all three walls of the niche and well lit with a ceiling light fixture that has a similar theme to the gallery display. For example, if you decide to arrange black and white photos of art décor works, the ceiling light must be of a design that matches the theme.
Set a small area rug on the floor. Its shape (round, rectangular, oblong) and size will depend on the floor space configuration of the interior recess. Your guests will linger in this space for a long while, enjoying the collections on the walls. It is important that they all be small, framed, and arranged in a beautiful pattern.
7) Place a nice area rug in the alcove and set a low coffee table on it. This table can hold all family and personal mementoes, keepsakes, collectables, and the like. It can also hold unusual art objects, ceramics, figurines, etc… Things that'll make visitors linger and scrutinise.
8) Another design idea for an alcove space of an interior is to set a chaise lounge in the space with some nice bright pillows. If you prefer, you can use one of those classic designs – a scroll chair. Place a large framed artwork on the wall . . . metal artwork will be a nice item. Set a runner rug in front of the chaise and place a small round top table on a thin pedestal to the side. An addition of a tall table lamp will throw in subdued light if or when the need arises.
9) If the alcove is less than 60cm (24 inches wide) thick glass shelves can be installed floor to ceiling to serve as display shelves. Build a dropped (false) ceiling fitted with recessed lights that'll light up your displayed items and serve as a space to display collectables, memorabilia, or any other items you may want to show off. Ensure the wall is painted a light hue so that whatever items are placed on the glass shelves will stand out clearly and distinctly. Try to avoid clutter on glass shelves.
10) If an alcove is set with bay windows, a built-in upholstered bench with plush colour coordinated throw pillows placed as back support creates an awesome look, especially if it has a great view of the outdoors. If the bay window has a ledge that's nice and wide, vases with cut flowers, decorative art pieces, carvings, ceramics, and the like can be arranged nicely to enhance the recess.
The base or platform . . . the upholstered bench can have concealed a storage facility that becomes not only a part of the furniture but a structure that is functional and handy.
Alcoves, interior wall recesses, niche, or whatever you prefer to call them, are an interior designer's delight that can also serve as perfect hiding places for relaxing, reading or sleeping.
Save