Homes fashioned after Georgian style architecture expresses the ways of life of its occupants; a lifestyle of historical appreciation of elegance with understated formalism.
Georgian home designs are beautiful architectural structures imported from England during the Colonial days. Although their home designs have some similarities with Colonial style houses, they tend to be bigger, and therefore require a larger expanse of land.
Georgian architecture still remains a popular choice among aspiring homeowners who love stately homes with the traditional touch. It is elegant and appealing and stands out distinctly on any street; a dream home of choice for those that appreciate period style house designs.
Living in one of these luxury homes reflects the lifestyle of its occupants which translates to a desire for stately elegance with an understated formalism.
Attractive Features of Georgian Home Designs
Georgian homes are larger than many of their Colonial-style "relations", sporting a front view that is greatly enhanced by a good number of windows that are usually multiple double-hung with multiple panes and pediments placed symmetrically along their design lines.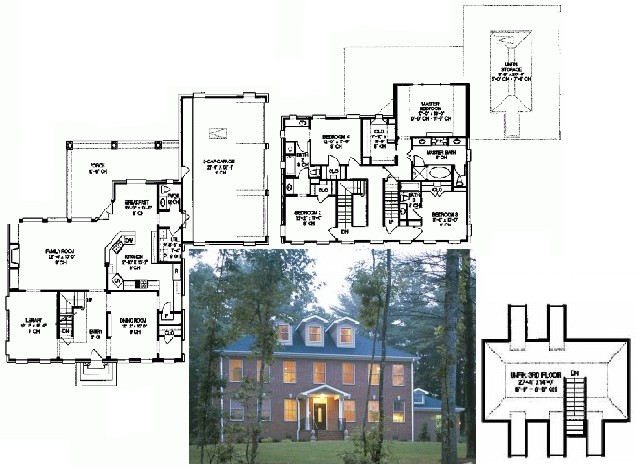 The symmetry is evident in the central placement of the entrance door, porch and other exterior elements of the buildings. The entrance door is often adorned with detailed ornamentation. All the interior rooms and spaces are also symmetrically arranged.
Each side of the house is often with paired chimneys.
Two storey structures
A moderately pitched roof with little overhang
An understated centrally placed gable
Decorative door surround
Interior of a Georgian Style House
With an impressive façade from its pediment to its columned porch, Georgian homes exude simple yet classic luxury. Its interior boasts of classical symmetry that creates a balance starting in the living and dining rooms on either side of the entrance foyer.
For those who choose to go for this classic dream home, they will find the two storeys great room features a fireplace and beautiful bay windows a dream. There is the much-loved country style kitchen with ample space for an island unit and a breakfast nook. There is always an access to a porch at the rear of the house, asides the one in the front.
Some Georgian home plans are designed with a walkout basement foundation.
Browse Online for Beautiful Georgian Dream Homes
If you find a Georgian home plan you like (from stock plan retailers) but you need some additions (or "subtractions") made to the drawings, any of the floor plans can be customized by them, or tailored to suit your lifestyles varied needs, your plot size,  preferences, or any other requirements you wish.
Further Reading:
Modest Elegance of Colonial Style Houses
7 Popular Traditional Style Homes