European and French Country style homes have magnificent façades that are suitable mainly for large plots of land. They offer a touch of elegance and are a nice reminder of the beautiful themes and history of the Old Country architectural styles.
There are many subsets of European home styles as there are countries in Europe, and what these styles offer to the modern home-owner is a touch of classiness, refined style, and large proportions.
European house plans feature one or one and a half stories and come with stone, brick, or stucco exterior finishes and are commonly large, looking best on good sized plots of land where their grand façades can be better appreciated.
They offer an stylish look with their rich ornamental detailing. Other European home designs and styles include:
French Country homes
Tudor home plans
Norman home designs
Second Empire house designs
Chateauesque home styles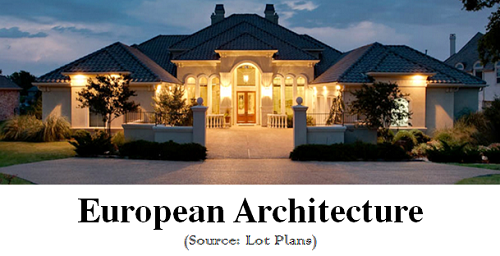 House Design and Floor Plan Details
Beautiful sets of front gables give an impression that this two storey home design is bursting with massive interior spaces, a truly accurate perception.
It contains an extravagant master suite situated on the ground floor which leads out to a rear deck.
There are four other bedrooms located on the top floor. A wonderful sense of stunning spaciousness reigns with its two storey (double volume) entrance foyer and grand room.
There is a library and a home office on the ground floor, along with an expansive gallery hallway and a gracious dining area.
The kitchen includes an island that offers efficient and convenient working space, and a good flow into a morning room which leads out onto an welcoming rear deck.