The description termed 'contemporary home design' covers a wide range of architectural sub-styles that appeal to aspiring homeowners who value an up-to-date approach to both architectural designs and way of life.
Contemporary houses and their interiors generally promote flexible and functional living spaces with styles that show progressing links with the works of the early 20th-century master architects.
Modern designs are enjoying an architectural renaissance of the 1920s and 1930s private houses which was the means by which architects established the early Modern Movement, a time when their clients looked favourably towards commissioning the avant-garde, a time when asymmetrical shapes became architecturally pleasing, with an absence of decorative and ornamental features found in traditional style houses.
Features Typical of Contemporary Houses
Contemporary homes can make great dream homes and can be built on either small plots of land or larger sized lots. From the A-frame houses to the geometric asymmetrical modern designs, they draw on a variety of influences, ranging from the traditional to the high-tech.
The building components are almost always glass, concrete, vinyl, steel, PVC, engineered wood, aluminium, etc., often constructed with an industrial clean lined look to them.
For example, most contemporary home styles place a large emphasis on the use of glass to enable an infusion of natural light with a wonderful view of the outdoors.
Other architectural features of contemporary home designs include:
Open plans with flexible floor spaces
Attractive minimalist decorative elements
An extensive mix and blend of modern ('industrial') and sometimes traditional (e.g. natural stone) materials throughout the home
Extensive use of glass in the form of windows, opaque or obscured glass blocks and glazed doors that open up the home to natural sunlight
Unobtrusive front entrances
"Shed" roofs with steeply sloped single flat inclined planes

Contemporary home designs are perfect for the lifestyle of modernists, minimalists,  and "forward thinkers of the 21st century". If your desired dream home is of a contemporary design, you are bound to enjoy an environmentally friendly home design; a very modern exterior and a stylish interior, with up-to-date efficiency and functionality that can be tailored to your basic (or extravagant) needs and requirements.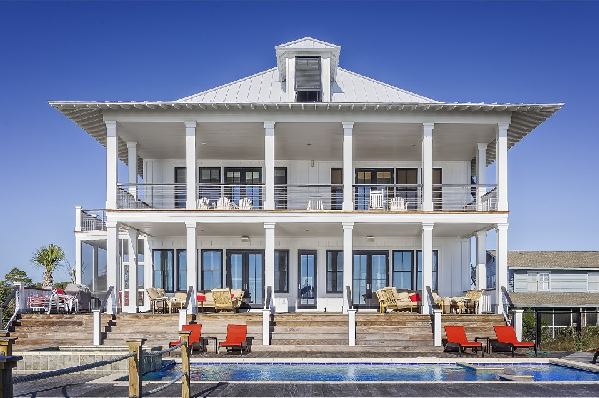 Further Reading:
Modest Elegance of Colonial Style Houses
Award Winning Luxury Homes You Can Build