1. Waterfront, Coastal, and Beach Homes
Beach homes and waterfront houses are typified by beautiful airy structures built predominantly with wood.
Waterfront homes are usually constructed with the main floor raised off the ground, features typical of houses built on shoreline sites. They can be either used as residential houses or vacation homes and are versatile enough to fit into a mountain or other remote environments – Read More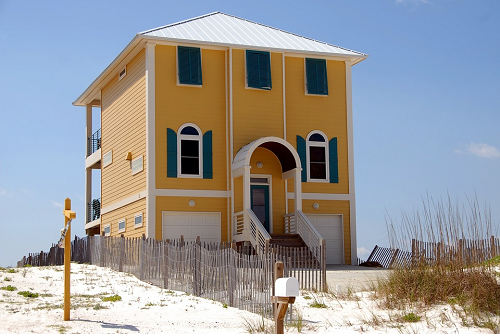 2. Colonial Style Homes
Are you looking for that classic look of architectural elegance, but on a rather smaller scale from structures of yesteryears? That means you love Colonial style houses.
Today's architect of classic designs taps from the home styles common in the original east coast settlements of America where colonial settlements and territories ranged from the windy New England coastlines to the humid Georgia swamps. . . Read more
3. Contemporary Home Designs of the Early 20th Century
Contemporary homes inspired by architectural styles of the early 1900's have a special stylish touch that many homeowners love. They can be built on either small plots of land or larger sized lots.
From the A-frame houses to the geometric asymmetrical modern designs, they draw on a variety of influences, ranging from the traditional to the high-tech . . . Read More
4. European Architecture
Many of us who are passionate about the "old world" architecture of European home designs just love the opulent look of villas, chateaus, palaces, country cottages, and castles of England, France, Italy, and Spain.
We are in awe of detailed works using wrought iron railings and balconies, flower boxes, wooden shutters, traditional gas lanterns and natural stone arches, and the like . . . Read more
5. Georgian Style House Designs
Georgian architecture still remains a popular choice among aspiring homeowners who love stately homes with the traditional touch.
It is elegant and appealing and stands out distinctly on any street; a dream home of choice for those that appreciate period style house designs . . . Read more
6. Mediterranean Homes
Mediterranean home designs are perfect homes for entertaining. Family and friends just love all the functional and efficient amenities that come with these dream houses.
Along with plenty of open airy interior spaces, asymmetrical plan layouts, and aesthetically pleasing outdoors, Mediterranean architecture echoes the comfortable stress-free and tranquil outdoors lifestyle of the region that gives them their aptly described name . . . Read more
7. Tuscan Inspired Homes
Architects and designers of Tuscan home styles and interiors draw their inspiration from the breath-taking landscapes of Tuscany dotted with lush vineyards; rich olive groves and the beautiful warm and golden colours of nature . . . Read more